The aim of this article is to help troubleshoot read-only files that do not allow the option of enabling editing.
When embarking on a live edit of a document in which you have a role, it may open in a read-only format without the option to modify it. Below are some steps to take to troubleshoot this issue.
Deleting Document Cache
Files Needing Attention
Deleting Temporary Files (optional)
Deleting Document Cache
The Microsoft Office Cache is a special storage containing temporary files to ensure changes are saved to the cloud. Sometimes, when MS Office is used with other apps in the cloud, there can be syncing issues if, for example, the Office application is closed before the sync. This can damage the Office Document cache. Microsoft Office typically fixes document cache files if an issue is detected. However, when a cloud app hasn't synced correctly, it can prevent the repairs from taking place, creating corrupt files. For this reason, it is recommended that we delete the document cache.
Close all your Word windows first, and then:
1. Open the respective MS Office Application e.g. Microsoft Word and in the search bar, type in Options.
2. Click on the first option. A pop-up called Word Options should open.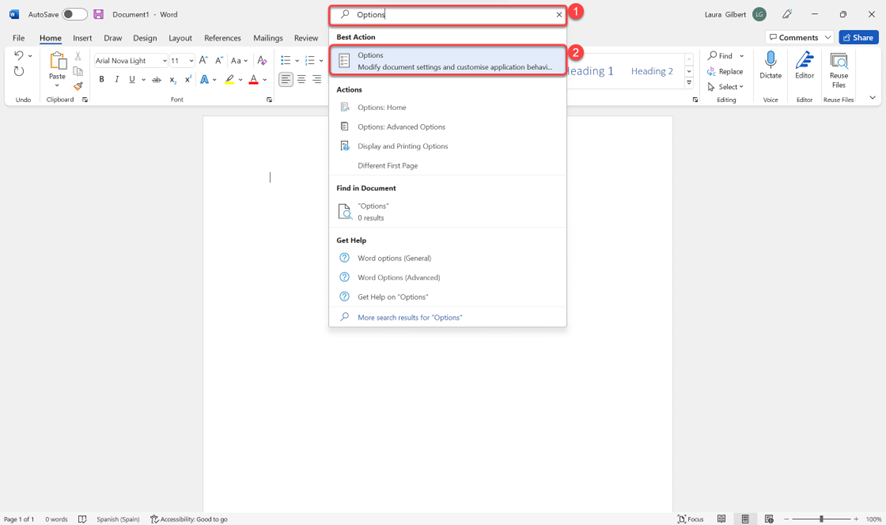 3. Click on the Save tab on the left-hand side.
4. Scroll down and click on Delete Cached Files.
5. Click on OK to save.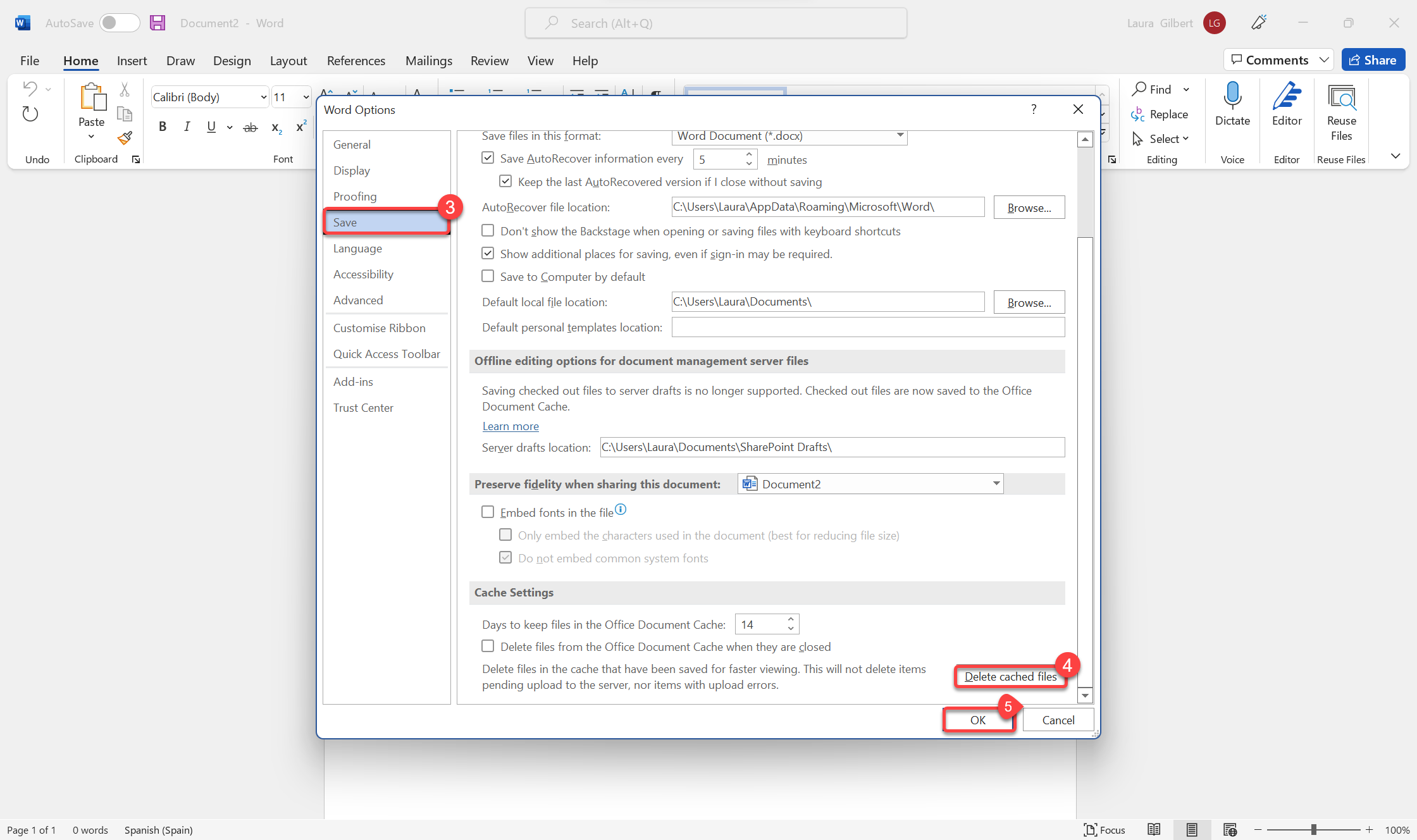 6. Close the Word window and proceed to try and perform the Live Edit again.
Files Needing Attention
The Files Needing Attention feature that appears within the Office applications e.g., Word, Excel, or PowerPoint. The Files Needing Attention section appears when a file didn't save successfully to the cloud. When there are no files that need attention, this tab will not appear.
To access this feature, go to File > Open within the respective Office application.
In the case that there are files that need attention, consult the Files Needing Attention tab. From here, you can open the file and save it to another location, or you can discard the changes completely. For example, if the file is saved elsewhere, you may wish to discard it via Discard Local Version.
Bear in mind that each Microsoft Office Application will only show files for that specific application. In other words, if there are issues regarding Microsoft Word, access Files Needing Attention within the Word application itself. For instance, PowerPoint files are found in Excel, and so forth.
Further information can be found here in Microsoft Support.
Deleting Temporary Files (Optional)
Regularly deleting temporary files is recommended to speed up your device, free up space, as well as reduce the risk of errors, bugs, and crashes. In other words, low disk space reduces device performance.
This step is optional given that it might affect other applications. In other words, ensure that there is another copy of the file before deleting it.
Please bear in mind that these steps may be different depending on the release installed on your device.
Click on Settings > System > Storage, under the Local Disk section, view theTemporary Files / OR Press Window key, write "%temp%" and select OK
Select the files you wish to remove.
Click the Remove Files button
For more information on temporary files, click here.
Relevant for: Administrators / Managers / Regular Users.
Please note: Do not hesitate to send us a ticket whenever you are facing any difficulty, if you are unsure of how to do it please refer to this article How can I create a Ticket?