Users are asked to retrain when a Document is updated
One of the main purposes of the Trainings Module is to make sure Users are always trained in the latest version of a Document.
That is why, as soon as a Document is updated and reaches Approved not Published status, Trainees are asked to retrain in that particular Document.


How are Users notified that they need to retrain?
When the Document is updated and reaches Approved not Published status, Trainees will receive an email notification, indicating which Document has been updated and that retraining is required. The email will include a link to the Training.


Will Users have to retrain in all Documents of the Training?
No, they will only have to read the updated Document and once they have done so, mark that they have Read & Understood it and sign off.


What happens to User Progress in the Training?
When a Document is updated and retraining is required, all previous Read & Understood sign off's are reset.
If there is only one Document in the Training, User progress will go from 100% to 0%. If there are more Documents in the Training, the percentage of User progress will be reduced accordingly, i.e. a Document in a Training including 10 Documents will weigh 10%, User progress will hence be reduced from 100% to 90% until retraining in the updated Document has been carried out.


Can a Document be updated without requiring retraining?
Yes, but only QA can do this. When the Document that is being updated reaches the Under Signing by QA Status and the next step is for QA to sign off, the following window will appear. QA must then:
Sign off electronically.
Decide if retraining is required, per default the setting in the drop-down is yes, if retraining is not required QA must change this to no.
Sign.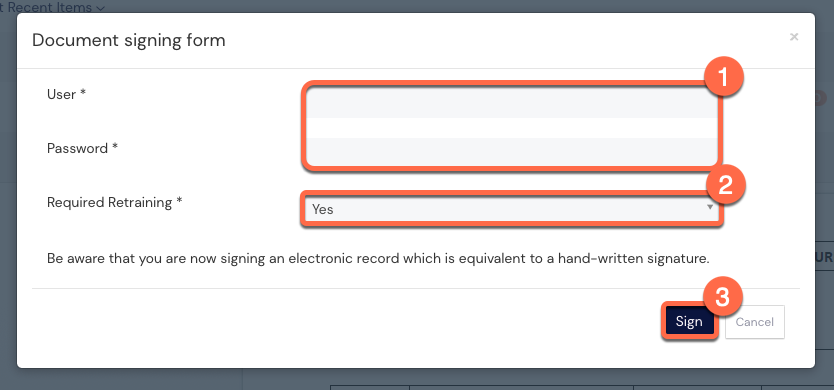 As soon as QA signs off, the system will confirm indicating Document signed successfully by QA. Status updated to Approved, Not Published.
If QA has marked retraining as required then an email notification will be sent out to all Trainees indicating that retraining is required in this particular Document.
Relevant for: Administrators / Managers / Regular Users / Read-Only Users.