Who has permission to make a Document Obsolote?
Administrators, Managers and Regular Users can make a Document Obsolete even though they don't have a role in the Document.
In which status can a Document be made Obsolete?
Documents can only be made Obsolete in Published status.
Documents can only be made Obsolete if they have been viewed or downloaded at least once in their current Published version.
Documents in Created, Draft, Under Review, Under Signing By Approver, Under Signing By QA or Approved Not Published cannot be made Obsolete.
How to make a Document Obsolete
Setting a Document to Obsolete is a two-pass process. In the first pass an Obsolescence Manager is Defined, in the Second the Obsolescence Manager confirms setting the Document to Obsolete.
Go to Document Control

>

Documents

.

Use the Filters and/or the Search functions to find the Document you wish to make Obsolete.
Click on the Document Title.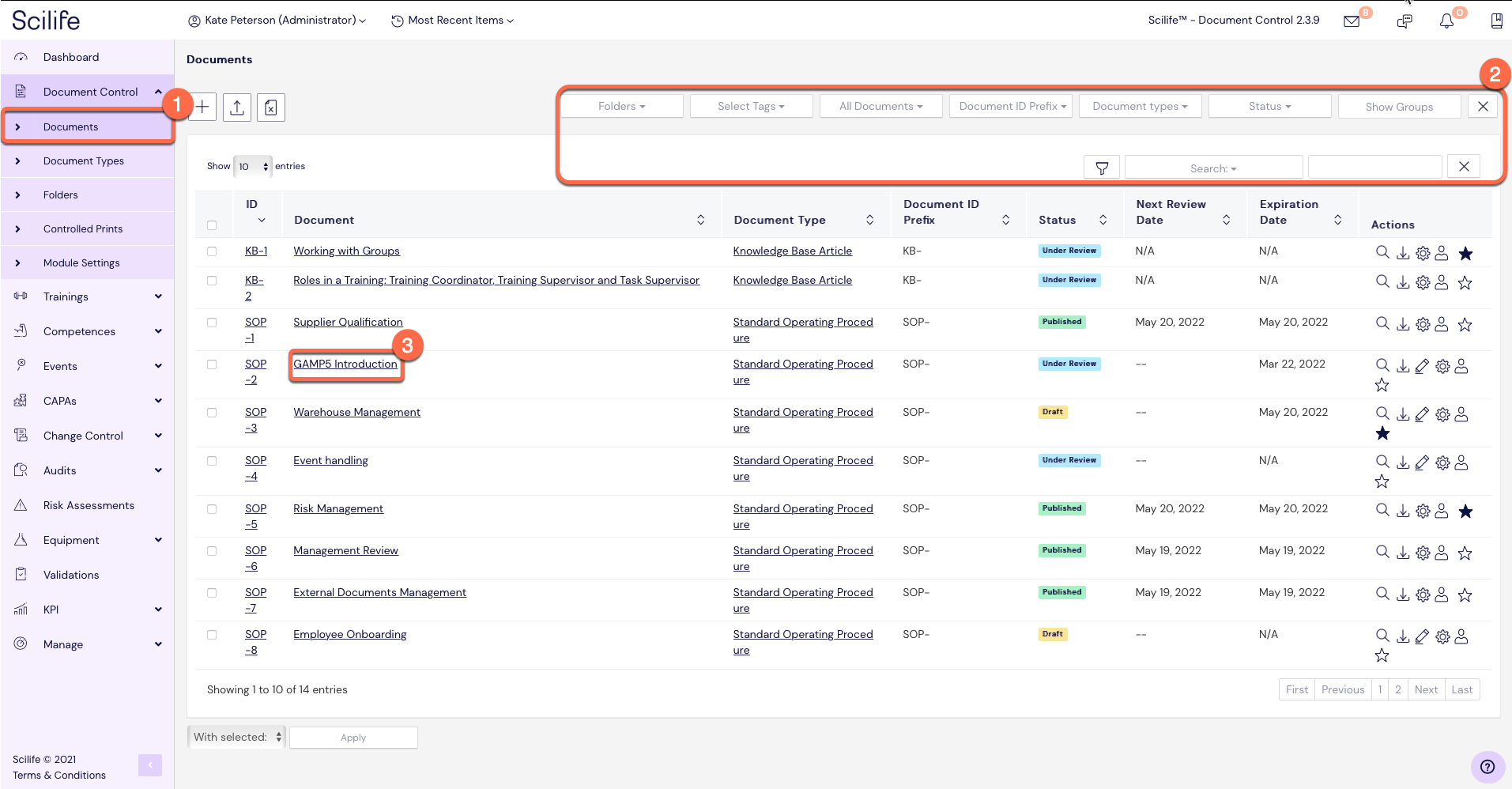 In the Document Details Page:
Click on the Status button which is now in Published.
Select Make Obsolete.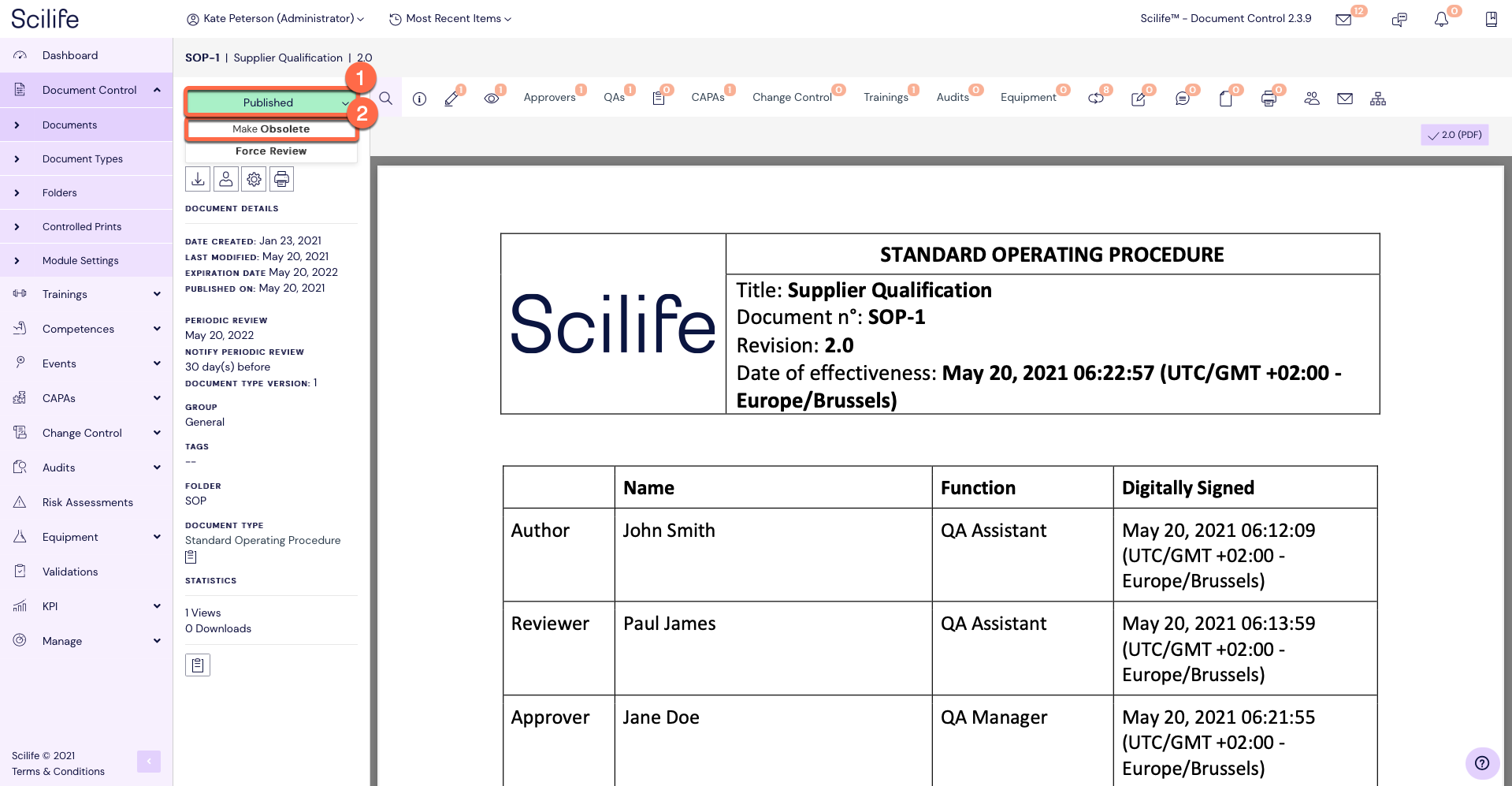 In the next window you will be asked to indicate who should be the Obsolescence Manager:
Select the User.
Fill out the Reason-field.
Save.



Please note:
The
Users shown in the dropdown will depend on Document settings.
By default only Users who belong to the Group to which the Document was assigned will appear.
If the User Selection Criteria for the Document was switched ON (which was the case in the screenshot above), then Users from all Groups can be set as Obsolescence Manager.
The Obsolescence Manager will then receive an email notification indicating that they can now set the Document to Obsolete:
This is to inform you that you can set the document status for Document Name from Published to Obsolete. You are receiving this email as you are configured as Obsolescence Manager.
The email will include a link to the Documents Detail Page where the Obsolescence Manager can finalize the process:
Click on the Status button .
Select Set to Obsolete.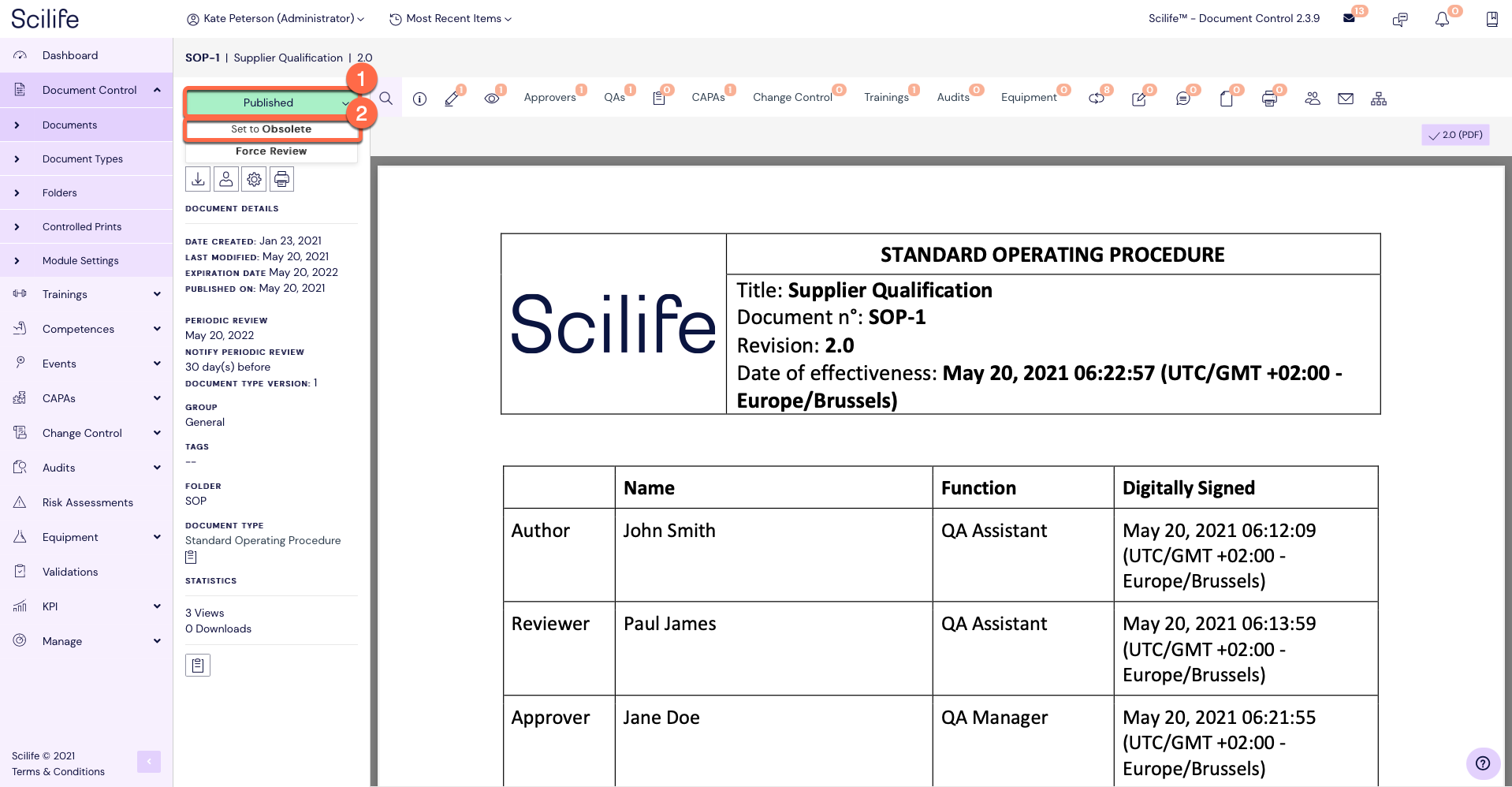 In the next window the Obsolescence Manager will be asked to sign off and include a Reason for why the Document is being set to Obsolete. Once they have signed off and clicked on Save, the system will confirm the Document has been set to Obsolete.
Relevant for: Administrators / Managers / Regular Users.
Please note:
Obsoleted Documents do not appear by default in the
Documents List
. In order to see them, you must use the
Document Status Filter
and select
Obsolete
.